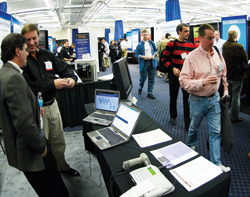 VENDOR EXHIBITION
List of Exhibitors
Interested in Exhibiting?
Exhibitor Services
Exhibition Hours:
Wednesday, December 7, noon–7:00 p.m.
Thursday, December 8, 10:00 a.m.–2:00 p.m.
Exhibition Location:
Grand Ballroom, Sheraton Boston Hotel, Boston, MA
Learn about cutting-edge technologies and tools from industry leaders, provocative startups, and open source projects.
See demonstrations of innovative products and services that can optimize your systems, network, and Internet management—and simplify your life.
Get in-depth answers from well-informed company representatives. (LISA exhibitors know to send technical people to this event!)
Make knowledgeable decisions regarding products and services for your business needs. Exhibitor demonstrations save you hours of research and let you quickly compare solutions.
EXHIBITION REGISTRATION
All training program and technical sessions attendees receive admission to the exhibition as part of their registration.
Free Exhibit Admission!
Want to attend only the exhibition? Register now for your free pass to the LISA '11 Vendor Exhibition. Simply select the FREE Vendor Exhibition Only Pass in the Conference Passes section of the registration form.
Exhibitor Registration
Exhibitors, please use the regular registration form to register. Simply select Exhibitor Pass in the Conference Passes section of the registration form and then continue through the form sequence. Have more than one person working in your booth? When you reach the Group Registration page, you may add additional folks from your organization to register them at the same time.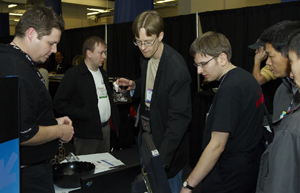 Exhibit Hall Happy Hour
Sponsored by Oracle
Wednesday, December 7,
5:30 p.m.–6:30 p.m.


Join us at the Vendor Exhibition for tasty beverages and take the opportunity to learn about the latest products and technologies.

Interested in exhibiting at or sponsoring LISA '11?
Click here for details.
Have questions? Contact:
Camille Mulligan, Sponsorship Sales and Exhibits Manager
Call: 1.510.528.8649 x17
Email: exhibits@usenix.org