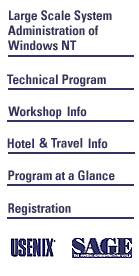 USENIX and SAGE Thank Their
Supporting Members
Join USENIX and Enjoy Great Membership Benefits!

Workshop Information
Position Papers
To help focus the breakout sessions, attendees are asked to submit a brief description (1 or 2 paragraphs) of the work they are doing with Windows NT at their site. Please describe anything you feel is special about the problems you are having or the solutions you are providing. Email your description to nt-sysadmin-papers@usenix.org.

Please begin your paragraph with your name, affiliation, and complete contact information including email and postal addresses, phone and fax.
Attendee Site Survey
Please take a minute to fill out a Web survey about your site. It will assist us in better understanding you and your needs. The survey is not required for participation, but the more information we have, the better the workshop will be. The URL is: http://cgi.cs.wisc.edu/scripts/dparter/nt-lisa-survey.perl
Refund / Cancellation Policy
If you must cancel, all refund requests must be in writing, with your signature, and postmarked no later than August 4, 1997. Telephone and email cancellations cannot be accepted. You may fax your cancellation or substitute another in your place. Contact the Conference Office for details: 714.588.8649.
Student Discounts and Stipends
Technical Sessions: USENIX offers a discount rate of $75 for full-time students. You must include a copy of your current student ID card with your registration. This fee is not transferrable.

Stipends: The USENIX student stipend program covers travel, living expenses, and registration fees to enable full-time students to attend USENIX conferences and workshops. To apply for a stipend, visit the USENIX Web site: http://www.usenix.org/students/stipend.ann.html, read comp.org.usenix, or send email to students@usenix.org.
Workshop Digest
One copy of the Digest is included with your registration fee.
Birds-of-a-Feather Sessions (BoFs)
Thursday and Friday, August 14-15
Do you have a topic that you'd like to discuss with others? Our Birds-of-a-Feather Sessions may be perfect for you. BoFs are very interactive and informal gatherings for attendees interested in a particular topic. Schedule your BoF in advance by telephoning the USENIX Conference Office at 714.588.8649, or email to: conference@usenix.org.
For more information, please contact:
USENIX Conference Office
22672 Lambert Street, Suite 613
Lake Forest, CA 92630
Phone: 714.588.8649
Fax: 714.588.9706
Email: conference@usenix.org
Office hours: 8:30 am - 5:00 pm Pacific Time
Workshop Organizers
Program Co-Chairs
Xev Gittler, Lehman Brothers
Phil Scarr, Synopsys, Inc.

Program Committee
Paul Evans, Synopsys, Inc.
Remy Evard, Argonne National Laboratory
Idajean Fisher, Pencom
Bernie O'Connor, SAS Institute
David Parter, University of Wisconsin
Ian Reddy, Simon Fraser University
John Schimmel, Silicon Graphics
Michal Simek, Hewlett-Packard
Mark Verber, Xerox PARC