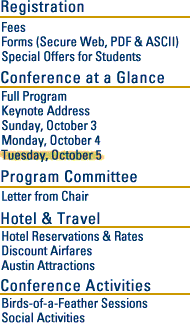 Technical Sessions
Tuesday, October 5, 1999
---
8:45 am - 10:00 am Invited Talk

The Next 700 Markup Languages
Philip Wadler, Bell Laboratories, Lucent Technologies


XML (eXtensible Markup Language) is a magnet for hype: the successor to HTML for Web publishing, electronic data interchange, and e-commerce. In fact, XML is little more than a notation for trees and for tree grammars, a verbose variant of Lisp S-expressions coupled with a poor man's BNF (Backus-Naur form). Yet this simple basis has spawned scores of specialized sublanguages: for airlines, banks, and cell phones; for astronomy, biology, and chemistry; for the DOD and the IRS. Domain-specific languages indeed! There is much for the language designer to contribute here. As all this is based on a sort of S-expression, is there a role for a sort of Lisp?
Philip Wadler is a researcher at Bell Labs, Lucent Technologies. He is co-designer of the languages Haskell, Pizza, and GJ. He likes to spend his time on the border between theory and practice, looking for ways to use one to inform the other. He helped turn monads from a concept in algebraic topology into a way to structure programs in Haskell, and his work on GJ may help turn quantifiers in second-order logic into a feature of the Java programming language. He edits the "Journal of Functional Programming" for Cambridge University Press and writes a column for "SIGPLAN Notices." He was an ACM distinguished lecturer 1989-1993 and has been an invited speaker at conferences in Boulder, Brest, Gdansk, London, Montreal, New Haven, Portland, Santa Fe, Sydney, and Victoria.
---
10:00 am - 10:30 am Break
---
10:30 am - 12:00 pm The Web, Data, and Collaboration
Session Chair: Jay Lepreau, University of Utah
Declarative Specification of Data-Intensive Web Sites
Mary Fernández and Dan Suciu, AT&T Labs--Research; Igor Tatarinov, North Dakota State University
A Collaboration Specification Language
Du Li and Richard R. Muntz, University of California, Los Angeles
Hancock: A Language for Processing Very Large-Scale Data
Dan Bonachea, University of California, Berkeley; Kathleen Fisher and Anne Rogers, AT&T Labs--Shannon Laboratory; Frederick Smith, Cornell University
Monday Technical Sessions