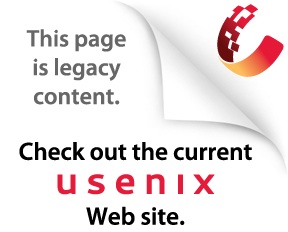 Next:
High Request Rates
Up:
Security Problems
Previous:
Spammers
CoDeeN is hosted on PlanetLab nodes, with the hosts absorbing the bandwidth costs. Since most nodes are hosted at high-bandwidth universities, they attract people performing bulk data transfers. Due to lack of locality, such transfers provide no benefit to other CoDeeN users - they cause cache pollution and link congestion.
Webcam Trackers - Sites such as SpotLife.com provide a simple means to use digital cameras as auto-updating web cameras. This subscription-based service allows the general public to broadcast their own ``webcams''. We noticed heavy bandwidth usage of the SpotLife site, with individual IP addresses generating multiple image requests per second, far above the rate limits in the official SpotLife software. SpotLife claims to bundle their software with over 60% of digital cameras, and a community of high-rate downloaders has formed, to SpotLife's consternation. These users clearly have enough bandwidth to access webcams directly, but use CoDeeN to mask their identity.
Cross-Pacific Downloads - CoDeeN nodes in Washington and California received very high bandwidth consumption with both source and destination located along the Eastern rim of Asia. The multi-megabyte downloads appeared to be for movies, though the reason that these clients chose a round-trip access across the Pacific Ocean is still not clear to us. A direct connection would presumably have much lower latency, but we suspect that these clients were banned from these sites, and required high-bandwidth proxies to access them effectively. Given the high international bandwidth costs in Asia, Western US proxies were probably easier to find.
Steganographers - While large cross-Pacific transfers were easy to detect in access logs, others were less obvious. This class had high aggregate traffic, spread across uniformly-sized, sub-megabyte files marked as GIFs and JPEGs. Large images sizes are not uncommon in broadband-rich countries such as South Korea, but some size variation is expected given the unpredictability of image compression. We downloaded a few of these large files and found that they generated only tiny images on-screen. From the URL names, we assume that these files contain parts of movies stuffed inside image files to hide their actual payload. Although there is existing research on steganography [18], we have not found the appropriate decryption tools to confirm our guess.
---

Next:
High Request Rates
Up:
Security Problems
Previous:
Spammers
Vivek Pai
2004-05-04