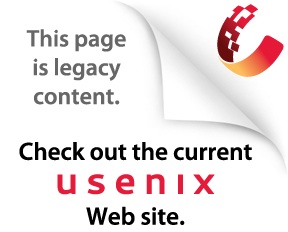 Next:
About this document ...
Up:
EtE: Passive End-to-End Internet
Previous:
10. Conclusion and Future
L. Breslau, P. Cao, L. Fan, G. Phillips, and S. Shenker. Web Caching, and Zipf-like Distributions: Evidence, and Implications, In Proceedings of IEEE INFOCOM, March, 1999.

Candle Corporation: eBusiness Assurance. http://www.candle.com/.

S. Chandra, C. Schlatter Ellis and A. Vahdat. Differentiated Multimedia Web Services Using Quality Aware Transcoding. In Proceedings of IEEE INFOCOM 2000, Tel Aviv, March 2000.

J. Chase, D. Anderson, P. Thakar, A. Vahdat, and R. Doyle. Managing Energy and Server Resources in Hosting Centers. Proceedings of the 18th ACM Symposium on Operating System Principles (SOSP), October, 2001.

Cisco DistributedDirector., http://www.cisco.com/.

F.D. Smith, F.H. Campos, K. Jeffay, and D. Ott. What TCP/IP Protocol Headers Can Tell Us About the Web. In Proceedings of ACM SIGMETRICS, Cambridge, May, 2001.

A. Feldmann. BLT: Bi-Layer Tracing of HTTP and TCP/IP. Proceedings of WWW-9, May 2000.

HP Corporation. OpenView Products: Web Transaction Observer. http://www.openview.hp.com/.

R. Fielding, J. Gettys, J. Mogul, H. Nielsen, and T. Berners-Lee. Hypertext Transfer Protocol - HTTP/1.1.
RFC 2616 , IETF, June 2001. http://www.w3.org/Protocols/rfc2616/rfc2616.html.

IBM Corporation. Tivoli Web Management Solutions, http://www.tivoli.com/products/demos/twsm.html.

JavaServer Pages.
http://java.sun.com/products/jsp/technical.html.

T. Keeley. Thin, High Performance Computing over the Internet. Invited talk at Eighth International Symposium on Modeling, Analysis and Simulation of Computer and Telecommunication Systems (MASCOTS'2000).

Keynote Systems, Inc. http://www.keynote.com.

B. Krishnamurthy and J. Rexford. Web Protocols and Practice: HTTP/1.1, Networking Protocols, Caching, and Traffic Measurement, pp.511-522, Addison Wesley, 2001.

B. Krishnamurthy and J.Wang, On Network-Aware Clustering of Web Clients. Proceedings of ACM SIGCOMM 2000, August 2000.

D. Mosberger and T. Jin. Httperf--A Tool for Measuring Web Server Performance. J. of Performance Evaluation Review, Volume 26, Number 3, December 1998.

NetMechanic, Inc. http://www.netmechanics.com.

V. Pai, M. Aron, G. Banga, M. Svendsen, P. Druschel, W. Zwaenepoel and E. Nahum. Locality-Aware Request Distribution in Cluster-based Network Servers. 8th International Conference on Architectural Support for Programming Languages and Operating Systems, 1998.

Porivo Technologies, Inc. http://www.porivo.com.

R. Rajamony, M. Elnozahy. Measuring Client-Perceived Response Times on the WWW. Proceedings of the Third USENIX Symposium on Internet Technologies and Systems (USITS), March 2001, San Francisco.

S. Seshan, M. Stemm and R. Katz. SPAND: Shared Passive Network Performance Discovery USENIX Symposium on Internet Technologies and Systems, 1997.

Mark Stemm, Randy Katz, Srinivasan Seshan. A Network Measurement Architecture for Adaptive Applications. Proc. of IEEE INFOCOM, 2000.

Software Research Inc. http://www.soft.com.

http://www.tcpdump.org.

H. Yu and A. Vahdat. Design and Evaluation of a Continuous Consistency Model for Replicated Services. Proceedings of Operating Systems Design and Implementation (OSDI), October 2000.
---